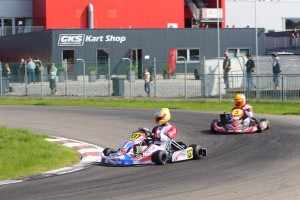 On 19th May, Karting Genk was once again the host of the Belgian Max Challenge, with the second round taking place with 28 drivers in the Senior Max Class. On Sunday morning Team DF/Bouvin Power driver Mathias Detige qualified 7th for the Qualification Heats.
In the 10-lap Heats he finished P4 and P7.
That put him sixth on the Grid for the start of the 18-lap Final.
Mathias lost a couple of  places in the first lap of the Final. But he recovered well and quickly moved up to sixth place chasing the lead pack of five drivers.
Although Mathias was missing about 1/10 second per lap in raw pace his MS Kart Blue Falcon managed to catch the leaders. When the tussle for the win started between the Top 5, Mathias swiftly squeezed past Dutchmen Sam Schippers and Fazio Franssen with 3 laps to go. He was able to hold on to 4th place until the finish.
The win was for Dylan Lahaye (GKS-Birel) with Glenn Van Parijs and Michael Cool, both driving a Bouvin Power-Tonykart, finishing P2 and P3.
Mathias is now fifth in the Championship and still in contention for the title, with the next Round scheduled in Kerpen, Germany on 23th June.