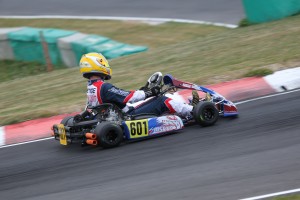 The UK's famous PF International Circuit, near Grantham in Lincolnshire hosted the third round of the 2013 Rotax Euro Challenge. Excellent facilities, a challenging track, Europe's most talented Rotax drivers and beautiful sunny weather all contributed to a weekend of absolutely cracking kart races.
After the disappointing results in the first two Euro Challenge rounds, the 2012 DD2 European Champion, Mathias Detige, backed by Sandhills and DF Aviation, was eager to do well at PF International.
As always, Wednesday and Thursday were used for extensive testing, with Kobe and Mathias trying out different chassis and different set-ups.
Championship leader Xen De Ruwe showed impressive pace in his Formula K. But Strawberry Racing's Andreas Backman (Tonykart), and Brits Lucas Orrock (Kosmic) and Sean Babington (Alonso Kart) were close behind. Mathias was missing a few tenths to fight for a top starting position but was well in the mix with the Birels of Ferenc Kanscar and Ben Cooper, the Tonykarts of Miika Laiho and Patrick Pearce as well as Barrie Pullinger's Alonso Kart and Simas Juodvirsis' Energy Kart.
On Friday, in very hot weather, Mathias qualified eight. He was pleased with the overall handling of his MS Kart Blue Falcon, knowing only Sunday was the day that would really matter.
On Saturday, still in very hot conditions, Mathias finished a strong P3 in his first Qualification Heat.
He was P9 in his second Heat, after a tangle with Lukovic. Otherwise a Top 5 finish was on the cards. He went on to finish P5 in the third Heat and ended the day's ranking in 8th place.
Pole position for Sunday's Pre Final was for 2012 DD2 World Champion, Canadian Ben Cooper (Birel).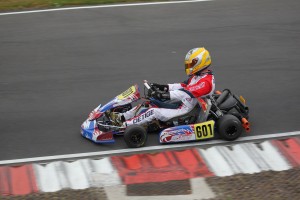 In Sunday morning warm-up, in much cooler temperatures, Mathias was 4th quickest and felt he could have done better still, so the team was hoping for a good showing in the Pre-Final.
In that Pre-Final, starting from P8, Mathias unfortunately had to take to the grass in the first turn, to avoid contact with drivers sliding in front of him. That ruined his Pre-Final, as he dropped back outside of the Top 20. But he didn't give up and fought back strongly to finish in P12. Cooper won the eventful Pre-Final, ahead of Tatum Racing's Patrick Pearce and Xen De Ruwe.
Despite the setback in the Pre-Final a strong result in the Final was still possible for Mathias because it was going to be a long and hard race. Mathias started that Final relatively well from row six and put in an excellent performance, with some really good overtaking, and catching the leaders by the end of the race. He finished a strong sixth. Sean Babington was in a class of his own in the Final after Xen De Ruwe was pushed into a spin early on. Babington's team mate Barrie Pullinger made it a Dan Holland Racing one and two. Swede Andreas Backman completed the top 3 of the DD2 class.
Mathias' sixth place was the team's first good result of the year in the Rotax Euro Challenge and hopes are high to do well again at Salbris (France) in September in the 4th and Final round of the 2013 Championship.