Mathias Detige victorious in BNL Karting Series Kick Off event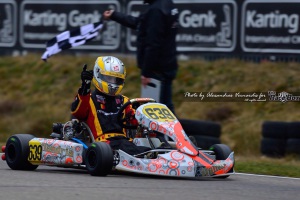 Over 100 drivers participated in the inaugural 2015 Rotax Max event at Karting Genk last weekend.
Saturday's free practice sessions were all run on a dry track. By Sunday morning however, some light showers meant everyone had to go out on rain tires for their Qualification runs.
For Flandria's Mathias Detige this yielded a P5 starting position in DD2 class. Fellow Flandria driver Haralds Garkaklis qualified in P8.
The track was dry when the 24 DD2 drivers got underway for their first Final in the afternoon.
Mathias had a good start and was able to slot into 4th position by turn one. In just two laps he stormed to the lead of the race passing recent Campillos Winter Cup winner Ferenc Kancsar.
Mathias won the race by almost 5 seconds to Kanscar with Haralds Garkaklis securing a well deserved third place after a storming drive also.
Having won the first Final, Mathias started the second Final from Pole position. His start was excellent and he was able to pull away from Kancsar and Garkaklis in the opening stages of the race. RSC Competition's Marcel Schirmer was the man on the move however, lapping 2 or 3 tenths of a second faster than the leaders. Schirmer picked up places lap by lap and took the lead after 8 laps.
Mathias was able to stay close to Schirmer and seemed to be waiting for the right moment to retake the lead. But Kanscar, still running a close third, dived down the inside of Mathias at the end of the main straight, with just 3 laps to go. Mathias was able to reclaim second place a lap later but by that time Schirmer was too far up to road and the German won the second race. Garkaklis pulled off a late move on Kanscar as well and claimed P3 in the final lap.
A first and a second place secured a well deserved Event Win for Mathias, with Schirmer 2nd and Kancsar 3rd overall. Garkaklis was fourth overall.