Flandria's DD2: a Real Mean Machine at the Rotax International Open!
Mathias had never raced in Zuera before but felt at ease almost instantly when Free Practice got underway in heavy winds on Wednesday. His Flandria Kart, engineered by Flandria Competition Kart boss Kristof Dehert and fitted with a Bouvin Power engine was right on the pace all week.
During Qualifying and Saturday's Heats Mathias showed that he had lost none of his skills circulating Zuera's very demanding track.
After showing impressive speed in Saturday's Qualification Heats Mathias lined up third for Sunday morning's Pre-Final. That proved to be character building race for Mathias. An early tangle damaged the rear of his kart. But he recovered well and managed to bring his Flandria Kart home in 5th spot.
At the start of the Final Mathias was able to jump to third in turn 1 with Strawberry's Andreas Backman (Tonykart) immediately opening a gap to second placed Filippos Kalesis (VPDR). Shaun Slavin (KR Motorsport-Tonykart), last year's International Open winner, demoted Mathias to fourth in lap 2. Backman had a 2 seconds lead, but Slavin was the man on the move as the Scotsman quickly disposed of Kalesis and chased down Backman. In the mean time Mathias had settled into a strong rhythm as well as he moved up to third overtaking Kalesis. His consistency once again paid off as Mathias kept pushing until the very last lap catching and passing Backman. Slavin was too far up the road and took a deserved win, but Mathias, Kristof and Birger were delighted with P2.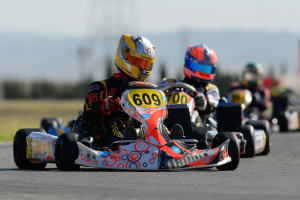 In Zuera, Mathias was supported by Flandria Competion Kart, iFixers and Bouvin Power.
P2 in Zuera also earned Mathias a ticket to the Rotax Grand Finals in Valencia end of November. It will be Mathias' fourth consecutive participation in this incredibly popular Rotax event where 280 drivers from around the world will be fighting for 4 "World Titles" in Junior Max, Senior Max, DD2 Masters and DD2 class.