Strong showing in practice. Great recovery drive in Final.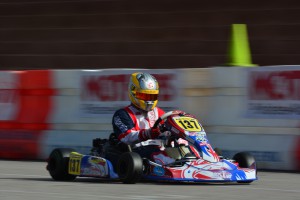 A week after finishing 6th at the Rotax Max Challenge Grand Finals in New Orleans, Mathias and Kobe were reunited with their familiar MS Kart Blue Falcon chassis after arriving in Las Vegas to participate in the 17th Supernationals.
This year, organizer Superkarts USA added the Rotax DD2 category to its world famous event for the first time.
The entry list of 44 DD2 drivers featured several high profile names such as 4 time Indy Car champ and former Toro Rosso Formula 1 driver Sebastien Bourdais. Ex-Renaul F1 driver Nelson Piquet and DTM-star Robert Wickens were also on the list. Intrepid factory driver Bas Lammers and Birel driver Paolo de Conto were surprise entries in the DD2 class. Rotax Euro Challenge drivers Adams, Backman, De Ruwe Lepesqueux, Ludi, Mukhin and Pullinger also made the trip to Arizona.
But in the end it was 2012 DD2 World Champion and 2013 European DD2 Champion Ben Cooper (Birel) who won the SuperSunday Final.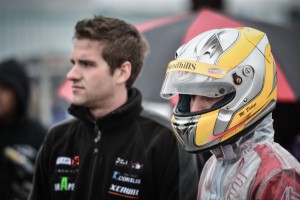 After enduring a hard time in the wet Qualification Heats on Friday and Saturday, Mathias started the 25-lap Final from the 7th row on Sunday.  He worked is way up to finish a fine 7th, setting the second fastest lap time in the race.
In Las Vegas Mathias was sponsored by MS Kart, Tahoe Import Auto, Sandhills General Trading and DF Aviation.
Below is a day to day report of the event,  from Greg Zink, MS Kart's official dealer for the USA.
21.11.2013 – Supernationals, Day 1
Today was the first time on the track for this event.
 Mathias used the first two practice sessions to learn the track and give valuable feedback in order to make changes to the chassis to find more speed.
 In practice session 3 Mathias was the fastest driver, setting the fastest lap time that stood till the very last timed lap at which time three drivers went slightly faster.
 Mathias was classified 4th quickest.
The fourth and final practice session played out the same way with all top 5 drivers trading the fastest lap. Again Mathias ended the session 4th quickest. This is a very good result in consideration of the tough competition we have in this class. 
Tomorrow brings a new challenge for us, because rain is in the forecast. So a new set up will be needed for these conditions.
Looking forward to tomorrow.
22.11.2013 – Supernationals, Day 2
A fantastic day for MS Kart today. Mathias was fastest of all in session 1 practice and 2nd fastest in session 2. The last two sessions of today were wet, and we chose to carefully cycle our wet tires for use in qualifying and racing.
 Mathias is doing a great job aboard the excellent MS Kart chassis.
We look forward to qualifying tomorrow.
23.11.2013 – Supernationals, Day 3
Mathias qualified 10th this morning in very cold and wet conditions.
The first of three heats was also completed this morning. With worsening weather conditions , more rain, the race start was aborted two times, and eventually when the green light came on there was a large crash the immediately bought out a red flag.
Mathias escaped without damage to his kart.
On the restart, Mathias did his best in the conditions, and after being hit off the track two times in the 12 lap heat race, Mathias bought his MS Kart home in 12th place.
Tomorrows forecast appears to be the same as today with heavy morning rain showers.
Kobe and I have some adjustments to make to the chassis to find the grip that Mathias needs for tomorrow.
More tomorrow,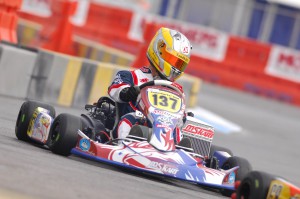 24.11.2013 – Supernationals, Day 4
Today was excellent, Mathias drove a great race to finish a credible 7th place.
Unfortunately, Mathias had to start mid field 14th, based on points from the 3 wet heat races on Thursday and Friday.
Today, the sun shone for the first time since Wednesday.
So we knew what the dry set up should be from setting fastest times on Thursday morning practice sessions.
Mathias was 5th quickest in warm up.
With the sun out and the track dry, Mathias circulated the track, often times being the fastest.
The MSKart performed well in the trying conditions endured this week.
Thanks to all at the MS Kart factory for producing a quality chassis.
Regards,
Greg