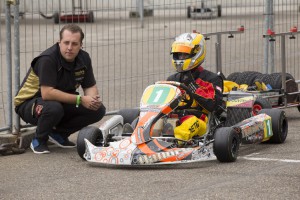 P4 for Mathias on race return with Flandria Competition Kart

After 4 months away from the karting tracks Mathias Detige joined Flandria Competition Kart to participate in the final round of the 2014 BNL Karting Series. Having missed the previous round in Ostricourt, the 2013 BNL DD2 Champion was out of contention for the 2014 championship. Nevertheless Mathias and Flandria Team boss Kristof  Dehert were targeting a strong performance at the Genk track. During the Friday free practice sessions Mathias immediately felt at ease in the Flandria Kart.
On Saturday morning , race day 1, Mathias qualified an excellent 4th.
At the start of Race 1 Mathias briefly dropped to 5th before climbing back to P3 battling it out with Barrie Pullinger and Xen De Ruwe. In the end Mathias had to settle for 4th. Sean Babington comfortably won Race 1
Babington again pulled away at the start of  race 2 with Andreas Backman in second. By half race distance De Ruwe and Mathias had closed the gap to Backman. De Ruwe found his way through, demoting the Strawberry Swede to third. Mathias finished P4 again, setting the fastest lap in the race.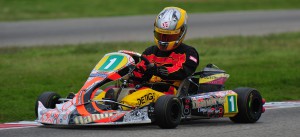 On Sunday morning Mathias qualified a superb second behind Backman.
A shower half an hour before the start of Race 3 made everyone switch to rain settings and wet weather tyres.  But by the start of the race the track had dried considerably.  Jamie and Ronald Billings, starting from the back of the field, gambled on going out on slicks and it paid off. Jamie Billings climbed all the way up to P3 in a race won by De Ruwe. Mathias finished P4 again.
Race 4 was a full wet race with Mathias finishing a strong second behind Backman. And so Mathias ended up a fine 4th in the overall weekend result on his Flandria debut.